An honorable member of the Coffee Shop Has Just Posted the Following:
Kiwis smile and laugh more than most - study
By
Kurt Bayer
@KurtBayerAPNZ
7:00 PM
Monday Sep 30, 2013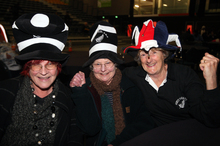 File photo / APN
New Zealanders are some of the happiest, most positive people in the world, a new global study has found.
Kiwis smile and laugh more than most people, while being well-rested and feeling that they are treated with respect.
New Zealand is ranked 15th, alongside Canada, in the annual Gallup poll entitled 'Positive Experience Index' which measured positive emotions in 143 countries last year.
People in war-torn Syria and and post-war Iraq are the least likely in the world to report experiencing positive emotions. Australia (75 per cent), the UK (76 per cent) and the US (77 per cent) were also ranked below New Zealand's 79 per cent on the index.
But Latin Americans, particularly those who live in Paraguay and Venezuela (86 per cent) top the table.
The results come just two weeks after Kiwis were ranked among the happiest people in the world, coming 13th out of 156 nations examined in the latest United Nations World Happiness Report.
Psychologist Chris Skellett, author of the book When Happiness is Not Enough, said New Zealand is much better at "living in the moment'' than most countries, especially Australia.
"In Australia, there's a sense of it being the lucky country, a land of opportunity, and everybody is waiting for their big break or to clinch the next deal before they will be happy,'' he said.
"We are very relaxed as a culture, achieving a balance between pleasure in the moment and satisfaction through achieving meaningful goals.''
The age-old adage that `the best things in life are free' has never been more relevant, he said.
In his book, he talks about the "three domains of happiness'', which includes people being in touch with nature through their five senses - listening to music, feeling the warmth of the sun, smelling the salt air etc - relaxing and laughing in the company of close friends, and being appreciative of the world as it is.
"People in a lot of first world countries get too stressed about making money, getting a better car, a bigger house, but not too many people in New Zealand get carried away with that,'' Mr Skellett said.
The Gallup results are based on telephone and face-to-face interviews with approximately 1000 adults in each country, aged 15 and older, conducted last year.
Despite the tendency of news media internationally to focus on conflict and negative reports, people worldwide are generally upbeat, Gallup found.
On average, 73 per cent of adults worldwide say they experienced enjoyment "a lot of the day'' yesterday.
Seventy-two per cent smiled and laughed a lot, 85 per cent felt they were treated with respect, and 71 per cent felt well-rested. Forty-five per cent of adults reported that they learned or did something interesting "yesterday''.
Nick Wilson, Associate Professor of public health at University of Otago Wellington, said while measuring positive emotions is only part of the well-being picture, coupled with the recent World Happiness Survey results, it appears New Zealanders are satisfied with their lot.
However, he added there is still a lot that can be done to improve well-being in New Zealand.
He cited areas for improvement as including mental health treatment services, tobacco and alcohol addiction, poverty, and job opportunities for young people.
By
Kurt Bayer
@KurtBayerAPNZ
-
APNZ
Click here to view the whole thread at www.sammyboy.com
.